Covid live news: Pfizer expects clinical data for under 5s in April; I…
00:24
The matter of Novak Djokovic's attempts to have his deportation reversed has been adjourned until 6pm, when we will continue our coverage.
An interesting tidbit at the end was a discussion on the scope of the hearing, with parties agreeing that a visa was truly issued, and that the matter at hand was the cancellation of the visa, not the requirements of the visa itself.
It's a small difference that I'm sure will matter once the hearing begins properly.
23:42
Some more details on Novak Djokovic's impending court case.
The news agency AAP reports there was a fleeting hearing at 3pm today but that there was no formal application or supporting evidence filed. Justice Anthony Kelly (who confessed to not knowing a lot about tennis) said:



I need to know a simply I presently do about the conditions of the applicant. I don't think it's unreasonable to ask for the court to ask, as an open question, whether the particular hotel in which the applicant is staying or may be able to stay might have obtainable to him tennis practising facilities.
21:52
Australian Covid situations hit new highs
More than 71,000 new situations have been recorded in Australia so far today, from New South Wales, Victoria, Queensland, South Australia and Tasmania.
NSW had 34,994 new situations and six deaths – and about 31% of those tested were positive, which is an upsetting proportion. Six people died, and there are now 1,609 people in hospital, and 131 in intensive care units.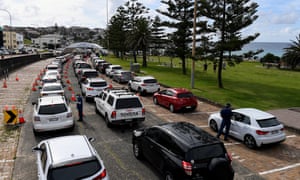 In Victoria there were also six deaths, and 21,997 new situations. Victoria also has a positivity rate from testing of about one in three. 631 people are in hospital with 51 in intensive care.
Queensland has recorded 10,332 new Covid situations, and one person has died.
There are 284 people in hospital, and 12 in intensive care, including two on ventilators.
Tasmania has reported 751 new Covid situations, which is a drop from the record 867 situations reported yesterday. One person has been admitted to hospital.
South Australia has recorded 3,070 situations, with 123 people currently in hospital and 12 in ICU.
Updated



Click: See details